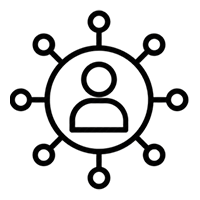 Media Team One  has extensive online marketing expertise to help you grow and retain your customer base. We implement proven methodologies strategic to your business including content marketing, search engine optimization (SEO), & social media integration.
Every client is unique and has different needs. One of our greatest strengths includes the development of a custom e-marketing package specific to your business. This custom solution is based on getting an intimate understanding of your business goals, objectives, & requirements.  This is truly a "science" and should not be overlooked and taken lighthly.

SEO: Learn how to build value for your target audience(s) over time with a thoughtful and targeted content marketing strategy. It's more than just selecting a few key words; it's about creating a compelling and resourceful front-end experience that your customers will love.

Facebook: A major benefit of Facebook advertising is its ability to reach your exact audience. Facebook is the most targeted form of advertising. You can advertise to people by age, interests, behavior, and location.

Google Business: Show up with your Business Profile on Google when people search for the services or products you offer.  Find out how many people are connecting with you on Google through measurable reports. Take this seriously and create your Google Profile and make it work for you so you can drive real customers into your business. Make sure you show up on Google or face losing out to the competitors who took the time to do it right. 

Instagram: In terms of overall popularity, Facebook is still the king in the social media world. But social media is ever-evolving and statistics prove that Instagram's users are indeed much more engaged and much more impressionable than Facebook's.
FACT: Instagram has 60x more engagement per follower than Facebook. Facebook users also shy away from advertisements much more frequently than Instagram's users: 30% of Facebook users regularly engage with brands, compared to 70% of Instagram users. These statistics make Instagram an absolute must for businesses looking to engage and convert consumers.

Yelp: Millions of people are on Yelp looking for businesses like yours. Show them why they should choose you. Join the community and start telling your story your way: Upload photos, respond to reviews, update your business info, and more.

LinkedIn: LinkedIn has many benefits for the brand and social media marketing professional.  You can establish your expertise through the LinkedIn content platform, interact with your community through LinkedIn messaging easily and affordably.

YouTube: As a business owner you must continually think of ways to get your products and services in front of as many people as possible. Using YouTube for your business can be a cost-effective way to increase your customer base if used regularly as part of your marketing strategy.

Digital Strategy: Your business' digital marketing efforts will only work if you have a set plan in place. We'll help you create a digital roadmap of where you are, where you need to be, along with planning out all of the deliverables that will help get you there.

Social Media Management: Amplify your brand messaging by engaging with your customers on the platforms where they hang out the most.

Google Ads/Paid Search/Search Engine Marketing: Sometimes, you need to cut through all of the noise and reach your customers efficiently and directly, and fast. Search engine marketing, when paired with SEO, can have an immensely positive impact on your bottom line.  There are literally 100's of social media platforms and online marketing opportunities out there, and most likely some that matters more than others to your particular business and needs. We have decades of shared expertise and have most likely already deployed  solutions for the ones that would serve you best.