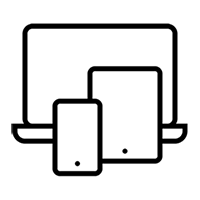 Media Team One can provide fully customizable multi-device web applications that incorporate e-commerce solutions, social media integration, web video, blogs, and much more. We also can provide a complete interface redesign for outdated websites or add powerful functionality to give our clients the added horsepower they need to achieve measurable results from their existing online investment.
Custom Design & Development
If you already have a plan and just need an experienced team to execute your goals, objectives, & requirements we can expand the functionality of your site, add a business critical content section, and provide a multi-device compliant experience to bring things up to speed. We have the support resources to take on projects in any capacity beyond the basic website packages described below.
Website Redesign
We refuse to take on a project before performing the necessary "Client Needs Analysis" & current "Website Assessment". By taking the time to go through proper due diligence we can then present an intelligent suggested "plan of attack" that will deliver the desired measureable results you demand. We will investigate and discuss your current "strengths and weaknesses" so we can deliver a significantly upgraded, perfectly tailored application that will take your existing site to the next level providing a professionally maintained site that stays on pace with today's rapidly changing environment.